Drew Costley, SFGATE | on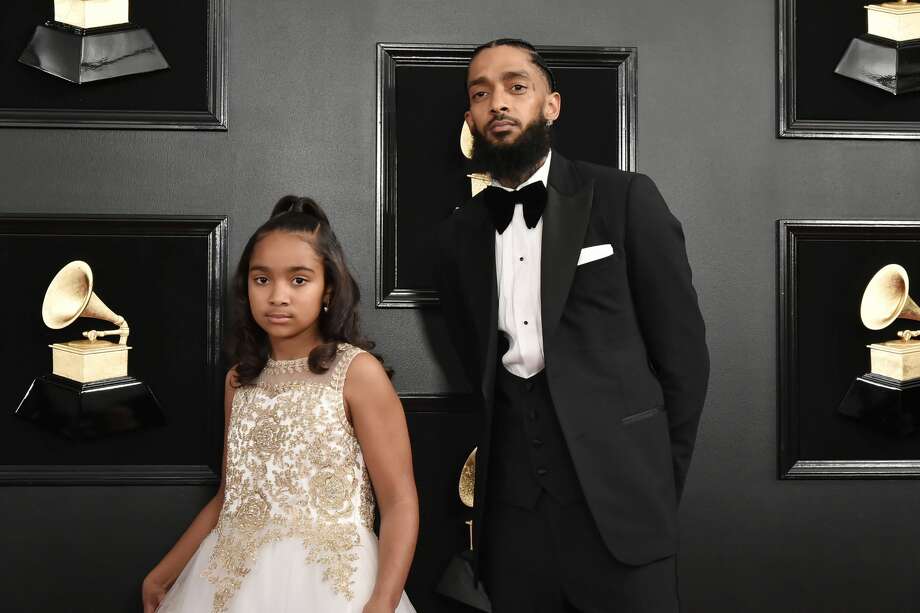 Los Angeles rapper Nipsey Hussle, 33, is dead after being shot outside of his Marathon Clothing Company store in the city's Hyde Park neighborhood along with two other people, Los Angeles Mayor Eric Garcetti confirmed Sunday night on Twitter.
Law enforcement officials told the Los Angeles Times that Hussle, born Ermias Ashedom, was shot multiple times.
The two other people who were shot are in serious condition, according to NBC News.
Hussle was nominated for a Grammy Award this year for his 2018 album "Victory Lap." After a series of popular mixtape releases, it was his first and only major label album.
Warriors star Steph Curry tweeted about the shooting right after it happened, saying, "God please cover and restore @NipseyHussle right now!!!" During the Warriors' victory Sunday night over Charlotte at Oracle Arena, Kevin Durant and Draymond Green danced to a song by Russell being played for the crowd.
Curry appeared with Hussle last year on his YouTube show, "5 Minutes from Home," where they discussed everything from potty training to late-night dumplings. Curry spoke more about his admiration for Hussle after Sunday night's game.
"I got to know him last year and a great conversation about who he was as a person, what he stood for, what his message was, how he tried to inspire people, considering where he grew up and how he turned that into something extremely powerful," Curry said. "Definitely a sad and tragic event. Obviously, I send prayers to his family and his community."
Hussle was from the South Los Angeles area, where the shooting occurred, and has rapped and spoken about his involvement with the Rollin 60's Neighborhood Crips gang, one of the largest street gangs in Los Angeles, throughout his life. Since his rap career took off in 2008, he has also served as a community organizer, activist, and entrepreneur in Los Angeles. Hussle is survived by two children, one with model and actress Lauren London.
Hussle tweeted moments before the shooting, writing that "having strong enemies is a blessing." In December, Hussle was in a street brawl in West Hollywood, where he was seen on video throwing punches.
Hussle opened the Marathon Clothing Company where he was shot in 2017 on Slauson Avenue in South Los Angeles. Most recently, he released a 2018 album 'Victory Lap,' which was his first and only commercial album release. It was nominated for Best Rap Album at this year's Grammy Awards.
Los Angeles Lakers star LeBron James tweeted out his condolences after learning of Hussle's death. "So so SAD man!! DAMN man this hurt," James wrote on Twitter.